Welcome to the How to have a paw-some den on animal jam Wiki
I will be showing all you jammers how to make your dens look amazing!
About How to have a paw-some den on animal jam Wiki
We will be giving you hints and tips on how to be on the epic dens list and more about style and dens.

We also will be showing you cool ideas for your outfits.
Feel free to edit and comment. Same with making a page, but make sure it is unique!

Add photos about your den and animal wearing your favorite clothing, and show everyone your personal decorating style at the Video Library (find it at the top of the page, it says Photos)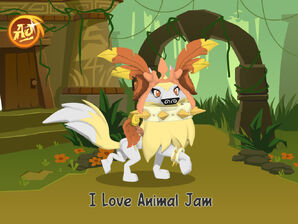 Ad blocker interference detected!
Wikia is a free-to-use site that makes money from advertising. We have a modified experience for viewers using ad blockers

Wikia is not accessible if you've made further modifications. Remove the custom ad blocker rule(s) and the page will load as expected.