Today we will be making a NM Pet Den Home! It has very comfortable, yet simple decor so your pet isn't overwhelmed. This den is guaranteed to be the paradise of your pets!
Here's what I put in:
One Acacia Pet Tree (Appondale Journey Book)
One Seahorse Fountain (Bahari Bay Journey Book)
One Fire Drum (The Hive Adventure)
One Telescope (Outback Imports)
Now this the table and chairs I had, so you don't need to follow this very well.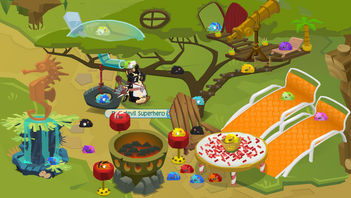 Two Lounge Chairs (Cruise Ship Party)
One Wood Lawn Chair (The Forgotten Desert)
One Cookie Table (Jamaaliday Gift)
Three Diner Stools (Jam Mart Furniture)
And a Green Painted Pot for extra flair (Jam Mart Furniture)!
And that's all there is to it! Go ahead and use your imagination and Jam On!