This is how to make a Nature Den, anyone can make it, Members or Non Members, and you can always add more!
All the Items I used are non member, Members can use Member only Plants if they wanted to though
You will need:
Edit
1 Den (I used the Non Member Small House den, but you can use a Member Only den if you want.)
9 Seasonal Trees (I used green, but you can change the colours if you like.)
8 Wall Ivys
3 Large Cactus
4 Primroses (I used the Non Member ones.)
5 Bonsai Trees
2 Leaf Fans
2 Wood Lawn Chairs
2 Tea Cups (Optional)
4 Dafodills; (The Non-member one)
3 Striped Couches (Try to get green if you can.)
2 Sturdy Tables (The one you start off with.)
1 Lemonade Stand (Journey Book)
1 Tree House (Journey Book)
1 Red Panda Plushie (Journey)
1 Flower Rug; (any colour, I used blue.)
Where to place the items
Edit
GARDEN
First, place all 9 Seasonal Trees along the back of the Garden.
Then, place all 8 Wall Ivys' just behind the Trees, so that they fill the gaps. (You should not be able to see the pots.)
Then, place 4 of the 5 Primroses, and leave an even gap between them. Is each gap, place the 3 Large Cactus'. (It should be on a pattern Primrose, Cactus, Primrose Cactus.)
Then, place both of the Wood Lawn Chairs facing each other, just in front of the Plants.
Then, Place a Leaf Fan either side of the Chairs.
Just outside of the den place your Tree House, then if you have one, put your Red Panda Plushie inside it, so that it looks out of the window.
INSIDE THE DEN
First place 2 of the Daffodils one either side of the Front door.
Then just inside the Den, place all three of the Striped Sofas, the should be in a patten to make nearly a full square, in the middle of the Sofas, put the Sturdy table.
On the table put the last pot of Primroses and place a Tea Cup either side of it. (Make them face away from the Primrose)
OTHER SIDE OF THE DEN
First, place the Flower Rug in the middle of the floor, not too close to the back wall, though.
Then, put your Lemonade Stand against the back wall. (Make sure it's not on top of the Flower Rug.)
Lastly, place the last two Daffodils, one either side of the Back Door.
If you want, you can put something on the patio.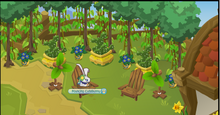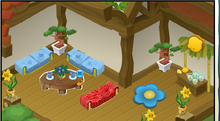 Ad blocker interference detected!
Wikia is a free-to-use site that makes money from advertising. We have a modified experience for viewers using ad blockers

Wikia is not accessible if you've made further modifications. Remove the custom ad blocker rule(s) and the page will load as expected.