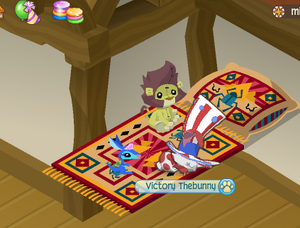 You start off with an Egyptian Pillow, you put it anywhere you would like the bed to be. Then, you get an Egyptian Rug, put it next to the Pillow, like in the picture, then you can add any plushie to the Bed. Or you could just not put a plushie there. Also, you could add another under or over it to make it look like a Bunk Bed!
You can also buy a couch and a mat (any color) and place the mat onto the couch. Now you have a nonmember bed!
Ad blocker interference detected!
Wikia is a free-to-use site that makes money from advertising. We have a modified experience for viewers using ad blockers

Wikia is not accessible if you've made further modifications. Remove the custom ad blocker rule(s) and the page will load as expected.