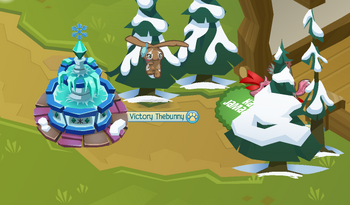 You can start out on the outside (feel free to add anything you think would be a good idea for the outside part)
Outside Items:
Edit
You need any kind of tree to put right on the outside. Like I said, any tree works! :D
Any kind of nonmember fountain works, the kind in the picture is from the Christmas Special Delivery Adventure. 
A welcome mat or a Happy Jamaalidays mat can work. (Welcome Mat is at the Furniture Shop, Happy Jamaalidays Mat is from the Christmas Prizes. 
For the inside...
Edit
Any type of tree works, you can put it in the corner or anywhere you think works. 
Any ornament like the Gift Ornament from Special Delivery could be used to put on the tree.
The chair (you choose what kind) can go next to the table, any side.
You can use a table or a fridgerator to go in the corner with the tree. Your choice!
Any wall decoration would work well.
If you want, you can put a Birthday Cake on the table, or anywhere you want! 
Outside, you can put pile of presents, plushies, anything fun! If you'd like.
In the left corner of the house, you can put one Giant Candy Cane facing right, another facing left, making the shape of a heart! 
If you want, next to the presents, you can put a Small Portal there :D (Small Portal sold at Diamond Shop for 1 Diamond)
Ad blocker interference detected!
Wikia is a free-to-use site that makes money from advertising. We have a modified experience for viewers using ad blockers

Wikia is not accessible if you've made further modifications. Remove the custom ad blocker rule(s) and the page will load as expected.