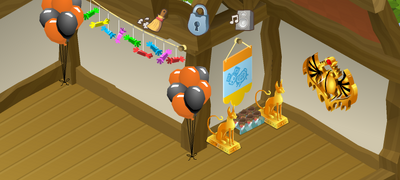 Are you looking for instructions on how to make a perfect
non member party den
? If so, good news! We have the tips and ideas for a fantastic party den! For non members, too!
Instructions
Edit
Buy some Scary Balloons, or if they don't sell it, use the Bundle of Balloons!
Play the adventure Bitter Sweets to get candy streamers. If you don't have Bitter sweets, you can go to the candy-themed party.
Buy the Golden Egyptian Scarab, and two Egyptian Cat statues
Put up the World Animal Day Banner
Try using the Waffle Cone Display.
Spooky Lights would definitely be the way to go along with Jamaaliday Lights
Any type of claw would be a good game to play. (You don't have to use it)
You can add anything you'd like in the Party Den :D
Ad blocker interference detected!
Wikia is a free-to-use site that makes money from advertising. We have a modified experience for viewers using ad blockers

Wikia is not accessible if you've made further modifications. Remove the custom ad blocker rule(s) and the page will load as expected.